INTERIM OPERATIONAL CONSIDERATIONS FOR PUBLIC HEALTH MANAGEMENT OF HEALTHCARE WORKERS EXPOSED TO OR WITH SUSPECTED OR CONFIRMED COVID-19: NON-U.S. HEALTHCARE SETTINGS
(POSTED 1/13/21)

COVID TIMELINE/INFECTION FACT SHEET
(POSTED 12/2/20)

RETURN TO WORK CRITERIA FOR HCP WITH SARS-COV-2 INFECTION
(POSTED 11/16/20)

HEALTHCARE WORKERS STANDARDS DIFFERENCES
(POSTED 11/12/20)

ASYMPTOMATIC AND PRESYMPTOMATIC SARS-COV-2 INFECTIONS IN RESIDENTS OF A LONG-TERM CARE SKILLED NURSING FACILITY
(POSTED 7/31/20)

PENNSYLVANIA MASK REQUIREMENT SIGN (can be posted in your practice)
(POSTED 7/14/20)

MICHIGAN MASK REQUIREMENT SIGN (can be posted in your practice)
(POSTED 7/14/20)

A STUDY ON INFECTIVITY OF ASYMPTOMATIC SARS-COV-2 CARRIERS
(POSTED 5/26/20)

CHIROPRACTORS CAN TREAT THESE 5 CONDITIONS
(POSTED 5/19/20)

LIFE UNIVERSITY HOSTS DIALOGUE ON THE COVID-19 GLOBAL HEALTH CRISIS
(POSTED 4/13/20)

CDC RECOMMENDATIONS REGARDING THE USE OF CLOTH FACE COVERINGS
(POSTED 4/4/20)

WHEN TO USE A MASK POSTER
(POSTED 4/4/20)

INTERACTIVE VIRTUAL WORKSHOP GUIDELINES

SAMPLE PATIENT CONNECTING CALLS DURING COVID - DR. JOE BAKER

(POSTED 6/1/20)
PLEASE SHARE THIS IN YOUR SOCIAL MEDIA AND IN YOUR PRACTICE!
To Save Photo: Right-Click on Image, Select "Save image as"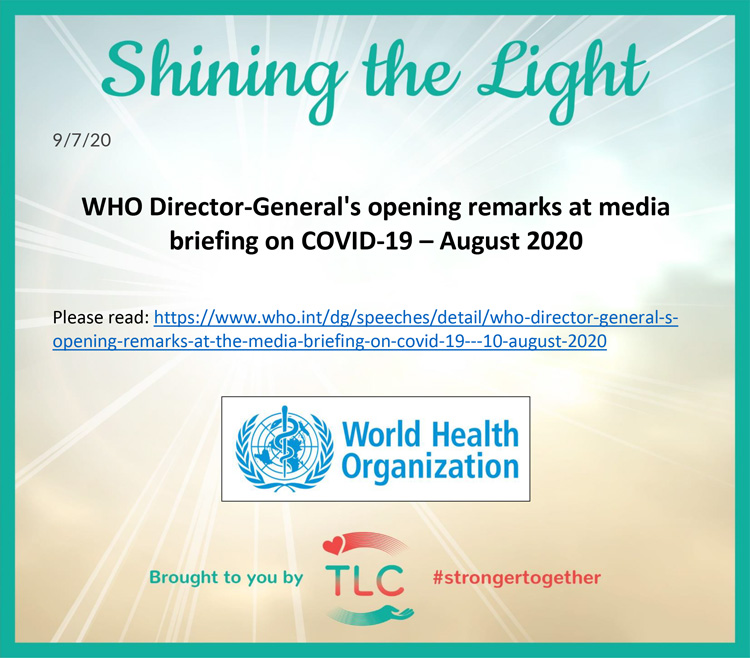 My Ask: Take Action - Dr. Bob Leib
Reach Out and Reconnect - Dr. Steve
Words of Encouragement from Dr. Tara
SAMPLE PRACTICE LETTERS/SCRIPTS
SAMPLE PATIENT WELCOME BACK CALL SCRIPT
(POSTED 4/24/20)
"I am calling with great news.
Our Governor has announced that we chiropractors are allowed to be open to care for our patients. Chiropractic has always been essential care. We are primary health providers. I would recommend that you schedule for Monday or Tuesday this upcoming week to have your spine checked and to see what impact this pandemic has been having on your spine."
TLC CHIROPRACTIC'S COVID-19 PATIENT SURVEY LETTER
(POSTED 3/31/20)

CHIROPRACTIC OFFICE LETTER OF ASSISTANCE TO HOSPITALS
(POSTED 3/31/20)

SAMPLE PATIENT LETTER FOR ESSENTIAL CARE
(POSTED 3/30/20)

DOCUMENTING ESSENTIAL CARE FOR THE PATIENT
(POSTED 3/30/20)

SAMPLE EMPLOYEE WORK LETTER
(POSTED 3/25/20)
For Essential Travel Documentation

TLC's

SAMPLE PATIENT LETTER

SHARED FROM OUR PRACTICE TO YOURS
Dr intro video to TLC's sample patient letter:

EQUIP YOURSELF WITH OUR

WORRY LESS, KNOW MORE

POWER POINT PRACTICE TOOL
Utilize this tool to help educate your patients and eliviate their fears around Coronavirus

The inside-out debate presented in a format for Patients to see that germs and disease are not the battle to fight.
Please note:
If you are already a
Speak Out Revolution Monthly Subscriber
, you will be receiving a link to Worry Less, Know More - there is
no need to purchase
this tool.